Type of Houses in Malaysia
Searching for a new house? Want to know the type of houses in Malaysia and differences of each unit? This is where you can have a deeper look for each housing type. There are many types of houses have been developed in Malaysia. Here is the list of houses:
Mansion / Bungalow / Zero Lot Bungalow / Villas
These houses can be categories as luxury homes in Malaysia, the buildup cost for this kind of houses is very high. This kind of houses are usually design or been planned out by the owner itself, so some of the houses may contain with many facilities according to their want. It is situated in a gated community that is secure with high security and maintenance. Below is the brief explanation of these each luxury house:
Mansion: It's built up on a huge piece of owned land. The size of this house bigger than a bungalow.
Bungalow: It's built on a smaller owned land. The size of this house is much bigger than others local houses.
Zero-Lot Bungalow: This house is located at end lots of a housing development. It is because of they wanted to fully maximize the land spaces.
Villas: Villas in Malaysia usually much fancier and the design more towards nature and traditional concept. They use a lot of natural wood color or product to build up villas.
Semi-Detached / Detached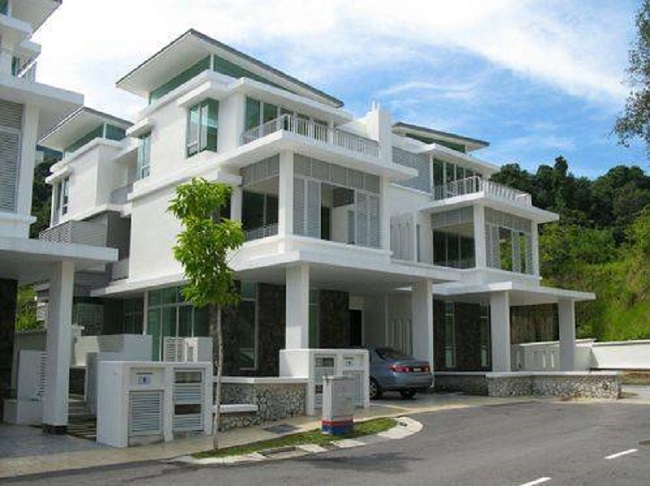 Detached houses is a smaller version of a bungalow excluding all facilities, it is a stand-alone house in a much smaller part of land compared to a bungalow house.
Other than that, Semi-D it is a joining house that attaches to one side of both houses. When we look it from outside the house it is a mirror to each other. It is also can be known as a duplex house.
This house is targeted toward the high middle-income people and it is situated in a gated community that is secure with high security and maintenance.
Terrace / link houses / super link
These houses are identical where there is a row of houses that look alike to each other. For this type of houses, they have a corner lot and also intermediate where the corner of the house is usually much bigger than intermediate and they have some extra land on side of the house.
Also, they could build up to different type and design depending on the developer design. Some of it can be a single storey or double storey, sometime it could build up to triple storey depending on the demand for the location and also the developer. This type of houses usually located in a gated community concept.
Townhouse
The townhouse is also known as city house, usually this house has two to three houses on top of each other. From the outside of the house, it will look like a single owned house. Townhouse is usually located together with condominium in a single compound because of this they shared a clubhouse and also others facilities.
Apartment / Flat
These are the high-rise houses with low security and maintenance. Facilities are not provided in these type of apartment or flat. The target market of selling these type of houses are for those who have lower income or to those people who are trying to buy a house but on a tight budget. The design and size of this type of house are much smaller and more compact to each other.
Condominium / Service Apartment, Residence, Suite
Condominium is a much better concept of a high-rise house because this type of houses are much bigger than an apartment or flat and provided with facilities such as swimming pool, children playground, gym and much more. The finishing of this building is much beautiful and they have an assured security.
Service apartment, residence or suite, It has the same concept as condominium except that it has more extra services than a normal condominium. They do provide services to give the residence a quality living experience with luxury concept and facilities just like staying in a hotel.
Penthouse / Duplex / Loft
These types of house are usually located at the highest level of the condominium or service apartment because these types of houses have much bigger square fits compare to others levels of the house. Some of these houses are build up till double storey and that is why some are called duplex or loft.
In these houses, they usually have their own facilities like swimming pool, gym and also some of this unit they could have their own private lift that bring them directly to their house.
SoHo / SoFo / SoVo / Vos
This type of houses is a new in the current market. The concept of this houses is to bring your office at home.
SoHo: This stand for small office home office. This type of building can convert your property into a house or it also could be a small office. Depending on the owner of the unit
SoFo: Small office Flexible office it is a more flexible office place as some unit it could have breaking point in the wall so they could expand the space
SoVo/Vos: Small office Versatile office and Versatile office suites has a similar concept where it focusses more on commercialized
Mixed-used Development / Integrated
Mixed-used development is an all in one centred residential area. It means that this residential is built on top of a commercial building. Nowadays we can see that there are many developers try to build mixed-development because it is more convenient especially in terms of facilities. The development of this type of residence usually focuses on the commercial area.
Shop Houses
These types of houses are located on top of a shop. These developments usually depend on the developer if they want to make it as shop house or a commercial area. Owners can buy the building inclusive top house and bottom shop. This type of houses are targeted towards owners of the shop who wanted to have a place to live or they can make it a place for their employees to stay.